Did You Receive a Federal Target Letter?
Get an Experienced & Proven Federal Criminal Defense Lawyer to Protect You!
What Is A Target Letter?
The federal government notifies individuals that they are targets for criminal prosecution with target letters. Simply put, it indicates that the federal prosecutor thinks the recipient has broken the law.
The letter may arrive after federal investigators have attempted to speak with you or it may appear out of nowhere.
It is widely utilized in white-collar cases and serves as the initial cue that someone is being looked into. According to the United States Attorney's Manual, a "target" is a fictitious defendant who is the subject of strong evidence. The target letter informs the reader of several things, such as:
the fact that the receiver is a subject of a federal grand jury inquiry;
what offense(s) the recipient is/are suspected of committing;
Fifth Amendment claim rights of the beneficiary; and
information on how to get assigned legal representation.
The target letter will occasionally urge the receiver to contact the prosecutor to discuss the case and will occasionally warn the recipient against deleting any evidence, warning that doing so might constitute obstructing justice.
Whether they are FBI target letters or letters from other agencies, these letters often have a similar structure. On this page of the Department of Justice website, you can view an additional target letter sample. 
Federal Target Letter Examples from the U.S. Attorney's Offices
The First Thing To Do When You Receive a Target Letter First
You have received a target letter if a federal prosecutor notifies you in writing that you are the subject of a grand jury investigation. If the three sample target letters look anything like the ones you've received, go here.
Immediately Employ a Federal Criminal Defense Lawyer / Federal Target Letter Attorney
Indeed, you are aware that you should retain legal counsel. If you've been finding a federal target letter attorney, you might be expecting a callback from several appointments you have made. Perhaps you're attempting to understand how to get a lawyer.
For whatever reasons, you may find the answers on how to choose and work with a federal target letter attorney below.
Should I Follow the Letter's Requests?
First of all, the letter nearly always requests that you do something, as you can see in the examples of target letters. Some invite you to a meeting with the assistant US attorney who is looking into the case. Some request that you appear before the grand jury and freely testify. Others ask you to get a lawyer and instruct the federal target letter attorney to contact the prosecutor.
The best course of action, regardless of what the letter instructs you to do, is to retain legal counsel, especially a federal target letter attorney, who should then get in touch with the prosecutor. 
You could feel compelled to speak with the prosecutor and describe what took place. Seriously, don't. They'll use it against you. In general, you should give the decision of whether to speak with federal law enforcement, including the prosecutor who is seeking an indictment against you, some serious thought.
What Are Federal Targets?
Federal targets are divided into three groups during a federal criminal investigation: witnesses, subjects, and targets.
It signifies that the investigation is looking into you if you are a target. Both the prosecutor and the law enforcement officer believe you committed a crime, and they are looking into it.
Being a subject is distinct in that the government suspects that something criminal occurred, and a subject may have knowledge of it, but they aren't necessarily aiming to bring that individual to justice.
In an inquiry, being a target is essentially the worst position to be in.
What Will Take Place?
There are several choices.
It's possible that the government has you under surveillance and is sending you a target letter in an effort to negotiate a plea deal right away so they won't have to bother filing charges against you. The AUSA will provide some information to your attorney, but not as much as if you are charged.
You and your federal target letter attorney can discuss the evidence they have, the likelihood that you will be found guilty if the matter proceeds to trial, and the government's offer. You might beg, or you might not. If you don't, the government will probably file charges against you.
Or, if the government isn't committed to bringing charges against you, your attorney has some leeway. He is able to meet with the agent and the prosecutor to learn what they are looking at.
Then he can meet with you and create a case against charging you that he can bring to the prosecutor. That is something that my law company has had success with, but every case is unique, so it truly depends.
Finally, luck can happen to you occasionally. A prosecutor gets sent to a different case. The case agent who genuinely wants to press charges resigns. It's never easy to decide how much to stake on pure chance, and generally speaking, the more effort the government has put into the case, the less likely they are to give up, even if a crucial employee is transferred.
Additionally, how you react from this point forward could be used against you. Be careful not to exacerbate your situation. Please view this video about what to avoid doing.
Questions Asked To Our Federal Target Letter Attorney
Is It Guaranteed That I Will Be Indicted if I Receive a Target Letter?
No. Even while there is a good chance that someone will be charged, it is not guaranteed. It is not always possible for prosecutors to compile enough evidence to indict their targets. An accomplished wfederal target letter attorney may occasionally be able to convince the prosecution to end an inquiry or reclassify the defendant as a witness.
The specifics of your situation will determine whether this is doable. Read our blog post on "Targets, Subjects, and Witnesses in Federal Criminal Investigation" to discover more about the distinctions between targets, subjects, and witnesses.
Is It Necessary for the Government To Send Out Target Letters?
Target letters are not often needed to be issued by the government. They are actually less often than you may imagine. The majority of the time, the government does not want targets to be aware of their status out of concern that they would impede the investigation or run away. Most people who are indicted by the federal government never get target letters.
Am I Allowed To Submit a Motion To Dismiss the Target Letter?
Regrettably, no. The prosecutor's own judgment of your place in his criminal investigation is conveyed in a target letter. A federal judge lacks the authority to consider it since it has not been filed with the court. Yes, the grand jury that will ultimately decide whether to examine the government's request to indict you is subject to court supervision. It does not, however, have the same level of oversight over the government's overall inquiry. Therefore, a "Motion to Dismiss Target Letter" does not exist.
How Soon After Sending Me a Target Letter Can the Government File Charges Against Me?
There isn't a defined amount of time. You have a legal and constitutional right to a prompt trial if you are accused in federal court. Target letters are not subject to such laws. You might have a long wait since government investigations frequently take years to complete.
Is It Necessary for the Government To Let Me Know When I Am No Longer a Target? Dare I Ask?
If the government determines you are no longer a target, it is not compelled to notify you. The government may choose to inform you in specific circumstances, but it is not necessary.
You are, of course, free to get in touch with the authorities and inquire about your continued target status, but should you? The best course of action might be to avoid being seen as it is impossible to predict what the authorities will infer from your enquiry. We frequently tell our clients that getting in touch with the authorities to find out where they stand in an inquiry is not in their best interests.
How Should I Respond to a Target Letter?
You will have the best chance of getting a favorable outcome if you hire a capable federal criminal defense attorney early. In some circumstances, a federal target letter attorney might be able to convince the prosecutors to end their inquiry into you. Even if a criminal indictment is unavoidable, your federal target letter attorney might be able to gain early discovery, review the available evidence, and possibly get in touch with the prosecution to work out a good pre-indictment plea deal.
There may be more possibility for negotiation than in cases where the grand jury has already delivered an indictment with specific counts because the prosecution may not have expended a considerable amount of time and resources investigating the case at this point.
It's crucial to understand what to avoid doing after receiving a target letter. Discover the usual errors and how they can worsen your situation by reading the information below.
Should I Interact With the Investigators?
No. Consider receiving a target letter informing you that the FBI is looking into you. It's scary right now. You might be tempted to get in touch with the detectives to ask them questions. You might want to explain everything to them and let them know how you got involved, but this is usually a bad idea.
Your words could come back to haunt you. The agents aren't there to help you; they've been thoroughly trained on how to take advantage of this circumstance. Please use your attorney to speak with the government only. Even though the impulse is great, you should hold off contacting the authorities until you have retained the services of an accomplished federal defense attorney.
Your federal target letter attorney may then suggest that you speak with the authorities if doing so would be to your advantage after thoroughly examining your situation. This can entail, for instance, participating in a proffer conference with prosecutors and agents or giving grand jury testimony while being granted immunity. However, your federal target letter attorney needs to explain the guidelines and restrictions to you in detail.
Is It Acceptable To Speak With Additional Parties Involved in the Investigation?
No. As with conversations with agents, your conversations with other people can be used against you if those individuals are subpoenaed at trial or before the grand jury. How may these discussions be put to use? One is that the prosecution is adept at twisting even harmless talks to its detriment. Furthermore, the prosecution could be able to charge you with obstructing justice if the people you communicate to are possible witnesses in the case.
What about relatives? Or, if you have to miss work for court appearances, what do you tell your employer? We understand that these circumstances can be challenging, especially when questions begin to arise from your spouse, parents, children, co-workers, or employer. The safest course of action is to speak with an attorney who can advise you as to what you should and should not discuss with such people. After considering all the facts and circumstances, your attorney can give you clear guidance as to topics and issues you can and cannot discuss, and advise you on how to deal with people close to you.
Should I Cooperate With the Government?
Possibly. This is a central question for many people targeted by the federal government, and the answer depends on the specific facts of the case. An experienced federal criminal lawyer can help you weigh such factors as your chances of winning at trial, your probable sentence if you lose at trial, and the advantages of cooperating with the government. You should not cooperate until these and other aspects of your case have been carefully examined.
What Else Should I Be Aware Of?
You should be aware of the law enforcement techniques the government is using or may use to investigate you. The federal government has vast investigative powers such as the power to tap your phone or search your home or place of business. It is also possible that people you know may be working as informants for the government without your knowledge.
The point is simple: do not do anything without consulting with your attorney. Under no circumstances should you get rid of evidence or tell anyone to lie.
How Should I Go About Hiring a Lawyer?
You should hire a federal target letter attorney who has significant experience in federal criminal cases. To learn more about how to find and hire the best criminal defense attorney, read out page on the subject here.
Although it may be tempting to reach out to a trusted attorney who handled your divorce or real estate closing, this is usually a mistake. That person may be an excellent lawyer, but his or her lack of experience in federal investigations will likely hurt your case, and there is simply too much on the line.
Protect Yourself, Get an Experienced Federal Target Letter Attorney
Federal cases are complicated, with difficulties in understanding federal sentencing guidelines, strict deadlines, and more written pleadings than are usually required when defending a case in state court.
Federal criminal defense cases require additional expertise and years of experience on the part of an attorney in the Federal Court. Consequently, it's imperative that anyone charged with a federal crime engage an attorney who has tried cases in federal court.
Federal Crimes – Federal Criminal Defense Lawyer in Texas
Texas Federal Criminal Defense Lawyer Heath Hyde is dedicated to providing aggressive and ethical representation to individuals and businesses charged with criminal offenses including:
Financial Fraud – White Collar Crime
Healthcare Fraud
Pharmacy Fraud
Healthcare compliance
Computer Cyber Crimes – Hacking
Tax Fraud / IRS Crime
Drug Possession & Trafficking
Child Pornography and Sex Crimes
Forfeiture Cases
Securities / Broker Fraud
PPC Loan Fraud
EIDL Loan Fraud
Capital Murder
Federal Murder Case
Federal Agriculture disputes
Eminent Domain Settlements
Grand Jury Subpoenas
USDA APHIS Investigations
IES Investigations
OIG Investigations
SEC Investigations
ATF Investigations
High Stakes Super Criminal State Cases
Qui tam FCA defense
Federal Public Corruption Defense
Local Counsel in all Districts in Texas
Heath Hyde has handled hundreds of federal criminal cases, not only in Texas but also in Federal Courts throughout the United States.
He has 30 years of combined experience defending cases in federal court – based in Texas. Despite the fact that the conviction rate in the Federal Court is approximately 90-95%, Heath Hyde has won approximately 90% of his Federal cases at trial.
Heath Hyde has represented defendants charged with virtually every kind of federal case. See Heath Hyde Results and Client Testimonials.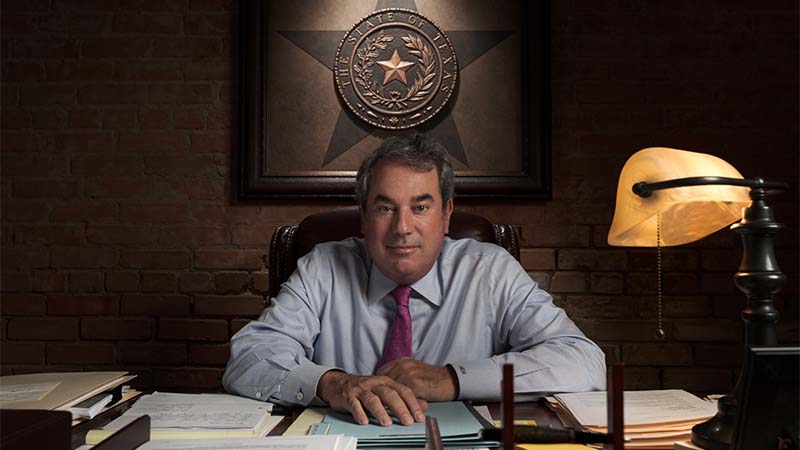 Get Started
24/7 Free Consultation
Named 100 Top Trial Lawyers in the United States & "Rising Star" in Dallas's D Magazine ​
Tried the largest healthcare fraud case to go to trial in the United States
Handled federal cases nationwide & represented clients in 53 different counties in Texas
Connected with a team of specialists that can handle any criminal issue throughout the country
Get Started on Your Case Today
Heath represents clients in all stages of federal investigations, from initial notice to trial and appeal. Most clients approach Heath in times of crisis, typically after being notified of a criminal investigation or an indictment. Don't hesitate to get in touch with the Experienced Federal Criminal Defense attorney at Heath Hyde for a free consultation 24/7.