Federal Public Corruption Defense Attorney
Public corruption is the breach of an elected official's ethical obligation to the community. The majority of public corruption happens when a decision-maker accepts something of value in return for making the right choice.
Any person who has been elected, appointed, hired, or in any other way employed by a constituency of citizens is capable of engaging in public corruption at the federal, state, or local levels. Each of these decisions—by a court, a legislator, or a bureaucrat—can be influenced by public corruption.
Public Corruption Types
Legislative, judicial, regulatory, contractual, and law enforcement are the five categories into which the majority of the cases the FBI investigates for public corruption fall.
Deals that influence politicians and judges, respectively, are referred to as legislative corruption and judicial corruption. Investigators from the government, like those looking into the recent business scandals, deal with regulatory corruption.
Contractual corruption refers to deceptive tactics used in the awarding of public contracts. Any improper effort to influence law enforcement personnel is referred to as law enforcement corruption.
Examples of Cases of Public Corruption
The FBI and local law enforcement conducted a sweep of a Miami courthouse in the late 1980s and discovered widespread bribery. Operation Court Broom was a sting operation that netted five judges and former judges, six attorneys, and one businessman.
FBI agents orchestrated meetings where judges were persuaded to suspend evidence, release documents, lower bail, and assign attorneys to cases, as well as put fictitious proceedings on the calendar. The investigation took more than ten years to conclude, but those responsible had to pay back bribe money and serve jail time.
A Canadian businessman was discovered to have bribed the previous executive director of the Texas Department of Criminal Justice to get a contract for a food product approved by the department. Each individual could be sentenced to up to 65 years in jail and fined millions of dollars.
Contact a Federal Public Corruption Defense Attorney
Please get in touch with Heath Hyde at 903.439.0000 to arrange a confidential meeting with a qualified federal public corruption defense attorney well versed in Federal public corruption law and the defense of criminal prosecution and investigations.
Representing government officials, government employees, and business executives in bribery and corruption investigations throughout the United States – Heath Hyde Federal Public Corruption Defense Attorney
Federal authorities and investigators take public corruption very seriously because of the significant negative effects it has on democracy and national security.
One of the federal offenses that receive the most investigation is public corruption, and people who are suspected of committing it may be kept under close observation for a long time before official accusations are ever brought.
In reality, public corruption is a vast area. Specialized groups that only look at matters of public corruption are used by federal prosecutors. For instance, the Public Integrity Section of the US Department of Justice is a well-known division that handles these kinds of prosecutions.
This section looks into a variety of cases, some of which, in extremely public cases, may lead to criminal prosecution. However, they frequently deal with situations that receive little public coverage. Cases against all kinds of people who are not involved in politics will be handled by public integrity units within U.S. Attorney's offices worldwide.
Federal, state, or local authorities, as well as their allies in the private sector, may violate the public's trust or abuse their positions in the name of public corruption. If a government official, whether elected, appointed or hired, requests, demands, solicits, receives, or agrees to receive anything of value in exchange for being influenced in the performance of their official duties, that person may be in violation of federal law.
Because of the business setting in which it takes place, public corruption is regarded as a sort of white-collar crime. Public corruption encompasses a wide range of criminal acts, including extortion, embezzlement, illicit kickbacks, fraud, and money laundering.
Crime-Related Corruption of Interests
When there is a claim of a criminal conflict of interest, the Department of Justice will pursue cases against government employees under complex laws with harsh penalties.
There are two main, slightly dissimilar criminal conflict of interest provisions in the United States: 18 U.S.C. 207 and 18 U.S.C. 208. A federal employee can easily break conflict of interest regulations. Many people do not accept the assertions made by federal prosecutors that they exclusively pursue the worst criminals.
False statements, bribery, and wage fraud
Public integrity units frequently conduct criminal investigations on federal employees. Among many others, common cases include bribery, misleading statements, and wage fraud. The Department of Justice will also bring criminal charges against federal contractors and anybody connected to the procurement process, including situations involving bid manipulation.
Infractions involving campaign financing or any other form of official misconduct will be investigated by a federal prosecutor against state authorities. In addition, they'll pursue cases involving wire fraud and obstruction of justice. Conspiracy charges are typically included in federal indictments.
Rico Act and Hobbs Act
It's crucial to remember that they don't merely accuse someone of public corruption. There are numerous offenses that federal prosecutors may utilize. The Hobbs Act is contained in 18 U.S.C. 1951.
They will also employ a variety of various U.S. laws, including the RICO Act, to bring charges against anyone they suspect of being complicit in public corruption. The facts and circumstances surrounding their actions will be examined by a federal prosecutor, who will then decide what kind of criminal charges to bring against them.
You should be aware of your rights and options if you are being investigated for public corruption or have already been accused of the crime. Like all other federal criminal investigations, a public corruption inquiry is a type of federal criminal proceeding.
A high-profile defendant will be subject to the same pretrial and trial procedures in a federal court as a low-level drug dealer. However, public corruption cases have some particular characteristics. You should speak with a federal public corruption defense attorney for more information as some federal statutes are slightly different.
Get Help From Heath Hyde
If you work for the government, are a public official or doing business with the government, you must comprehend the law and the procedure going forward. If you think you're under investigation for public corruption, you should get legal counsel right away.
There is a significant risk if a politician or public person is accused of deceitful behavior. If you are accused of public corruption, your reputation, your livelihood, and potentially even your family's safety, might all be in jeopardy.
Heath Hyde, one of the top federal criminal defense lawyer, and our federal public corruption defense attorneys will be by your side throughout the whole process, from the investigation to the grand jury indictment to the trial, offering the tenacious defense you'll need to take on accusers, investigators, and prosecutors. Contact Heath Hyde 903.439.0000.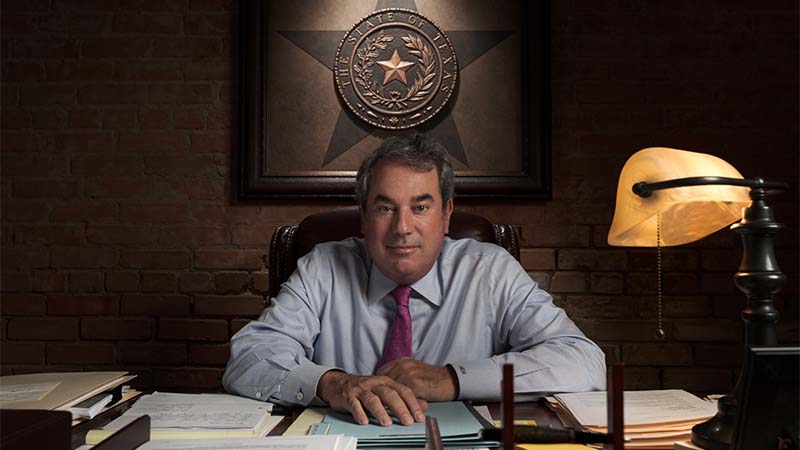 Get Started
24/7 Free Consultation
Named 100 Top Trial Lawyers in the United States & "Rising Star" in Dallas's D Magazine ​
Tried the largest healthcare fraud case to go to trial in the United States
Handled federal cases nationwide & represented clients in 53 different counties in Texas
Connected with a team of specialists that can handle any criminal issue throughout the country
Get Started on Your Case Today
Heath represents clients in all stages of federal investigations, from initial notice to trial and appeal. Most clients approach Heath in times of crisis, typically after being notified of a criminal investigation or an indictment. Don't hesitate to get in touch with the Experienced Federal Criminal Defense attorney at Heath Hyde for a free consultation 24/7.