What Should You Do Now?
Call Heath Hyde today if you received a target letter from the FBI, DOJ, or U.S. Attorney's Office.
Call [tel_hh] For a Free & Confidential Federal Defense case review by an experienced Federal Defense Lawyer and Former Prosecutor. 
An FBI investigation target letter can be analyzed in two different ways.
Because FBI target letters essentially announce impending federal charges and put you on notice that you are a party to a federal criminal prosecution, the obvious approach to respond is to recognize the seriousness of the letter's message.
Alternately, target letters are viewed by the attorneys at Heath Hyde Law as a government invitation to negotiate and settle the claims. Every target letter usually ends with a request to speak with the prosecutor, which is precisely what Heath Hyde does and how Heath Hyde lawyers have avoided prosecution in a range of federal criminal cases, including conspiracy accusations, tax fraud, and healthcare fraud.
Call the knowledgeable attorneys at Heath Hyde Law if federal authorities issue you with an FBI target letter to learn the following:
What is the focus of this investigation?
Are You Going to Arrest Me?
Are Criminal Charges Avoidable?
How much time do I have to resolve this and avoid charges?
Who Will Represent Me at Heath Hyde?
Has My Heath Hyde Attorney Resolved Target Letters for Clients in the Past Without Jail or Charges?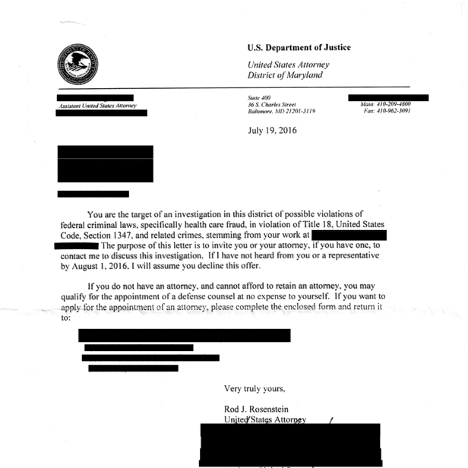 Why You Should Understand Federal Target Letters
The federal government has a number of ways to let targets know that they are the subject of an investigation.
Send an official summons (e.g. Grand Jury Subpoena)
Consult the target with federal agents
Put a search warrant to use.
Post a Target Letter.
Arrest Someone Without Notifying Them
Leader of the Target Letter Defense Team, Heath Hyde Federal Lawyer
The fact that a target letter is issued devoid of a judge's oversight is crucial to understand when comparing it to a search warrant or an arrest. In contrast, a federal magistrate judge needs to see "probable cause" that a crime was committed in order to issue a search warrant. Things are different when you have a target letter.
Although prosecutors frequently state in their written reports that they have probable cause, they rarely go before a judge to argue their case. The goal of using a straightforward target letter is often to get you to cooperate and come in with your lawyer rather than launch into full defense when you are arrested.
This distinction is crucial because it provides a skilled federal defense lawyer with a wealth of information about the investigation's current state, the offenses that are being charged, whether the government intends to charge additional defendants by framing the case as a conspiracy, the case's likely timeline, and a host of other details.
In the end, one of your attorney's first jobs will be to speak with the prosecutor to obtain precise information about your vulnerability and what evidence the government believes it has against you.
Reasons To Entrust Heath Hyde
Here are some reasons why clients from all around the country entrust Heath Hyde's federal criminal defense attorneys with their cases:
Attorneys from Heath Hyde, who have offices all over the country, have successfully evaded prosecution in a sizable number of federal investigations. Our experience has been dual. For starters, attorneys who have previously held senior positions in the U.S. Attorney's Office or the U.S. Justice Department bring to the table the knowledge gained from hundreds of federal cases.
Another reason is that the federal attorneys at Heath Hyde provide clients charged with federal crimes with practical and tested defense methods. Our dedication to our clients' needs and the caliber of our service are demonstrated by the acquittals and dismissals in federal trials, dropped indictments, and other extraordinary accomplishments.
Among Heath Hyde's federal cases are:
Charges of Federal Conspiracy
Fraud involving Medicaid and Medicare
Fraudulent kickbacks
Medical Fraud (18 U.S.C. 1347)
Federal Drug Corruption (21 U.S.C. 846)
Bribing (18 U.S.C. 201)
Postal fraud (18 U.S.C. 1341)
Wire fraud (18 USC 1343).
Cybercrimes
Tax evasion (26 U.S.C. 7206)
Embezzlement
Bank Theft (18 U.S.C. 1344)
Counterfeit goods (18 U.S.C. 2320)
Money Transfer (18 U.S.C. 1956)
Hypothecary fraud
Insurance Crime
Financial fraud (15 U.S.C. 78j, 78jj; 18 U.S.C. 1348)
Interfering with justice (18 U.S.C. 1512)
False statement or perjury (18 U.S.C. 1001)
Crimes Against Intellectual Property
Card-Valet Fraud
Identity fraud
Pornographic Crimes
Trafficking and prostitution offenses
Inappropriate Access (18 U.S.C. 1030)
Empirical Act
Patriot Act
Wiretapping
Obstruction of Justice
RICO Complaints
PPC Loan Fraud
Public Corruption
Heath Hyde is one of the few law firms in the United States that exclusively handles federal criminal cases, is made up of partner attorneys and former senior Justice Department officials, and ensures that clients are not assigned to junior attorneys but rather are represented by senior attorneys with extensive experience.
Call us right now to schedule a totally private, confidential, complimentary appointment talk to us about how we can assist you. Call 903.439.0000 or submit your case.